If you are not currently running perpetual inventory and will be completing a physical count you are one step away from being able to move to perpetual inventory. All you need is to have replenishment points established in your pharmacy system for every inventory item. While this may seem like a daunting task, Datarithm can deliver re-order points to your PMS automatically based on preferences of management.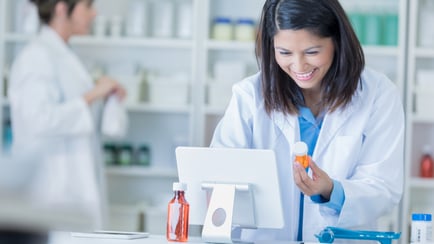 If you are currently running perpetual inventory, Datarithm ® assures that re-order points are constantly optimized. Every month, Datarithm ® automatically re-calculates optimal order points for every item/group based on changes in dispensing. These new order points are then automatically uploaded to your pharmacy management system. Every item and generic group are handled — nothing is missed, and nothing falls through the cracks.

Did you know that having a perpetual system for your inventory can help your pharmacy when it comes to tax season? Before we discuss how, it's essential to know the benefits of a perpetual system.
Benefits of Perpetual Inventory
There are many benefits and advantages of a perpetual inventory system for pharmacies of any size. Some of them include:
Accurate On-Hand Inventory – changes to inventory levels are recorded in real-time such as when inventory is purchased and when it is sold. On-hand positions are maintained with high precision and provides your pharmacy with the ability to run reports that can suggest possible theft, fraud, and diversion.

Uncovers Shrinkage – a perpetual system compares the inventory balance in the system with the year-end count and will allow you to investigate any discrepancies. Shrink is easy to spot when your PMS and shelf disagree.

Closer Management of Inventory Levels – as on-hand quantities and cost file updates are recognized every day, Datarithm ®, clients have improved visibility into their total inventory investment level which allows for sound purchasing decisions.

Reduce time spent placing daily orders – suggested order reports are common to all pharmacy systems and provide an automatic basis for replenishment.
Benefits of Automating Perpetual Inventory using Datarithm
Monthly re-order point optimization — Datarithm ® automatically resets optimal order points for every item/group based on changes in dispensing.

Automatic return and transfer recommendations – Everyday Datarithm ® surfaces and recommends wholesaler returns for full packages. Get surplus off your shelves, and cash into your bank by transferring the risk back to the wholesaler.

Improved fill-rates and inventory turns – Datarithm ® customers average a 4 plus point improvement in Turns and a 98+% fill-rate.

Intelligent cycle counting – On going cycle count activity augments the annual physical count and maintains more consistent and precise on-hand inventory levels throughout the calendar year.
With a perpetual system, inventory balances, thus cost of goods sold are more precise and financial statements are accurate throughout the year. This accuracy provides an ongoing line of sight to profitability, cash flow and tax liability. These financial optics allow management to plan and make better financial decisions and satisfy bank reporting requirements for obtaining credit lines and loans.

Datarithm ®, a cloud-based inventory management software system, seamlessly integrates with leading pharmacy management systems, empowering pharmacies to speed up their financial and accounting matters. Inventory is an essential asset to pharmacies. Datarithm ®'s comprehensive suite of tools enables your pharmacy to create and track more accurate tax and regulatory reports, all in one easy-to-use system.
Conclusion
Maintaining reorder points for thousands of drugs while recognizing fluctuating demand is nearly impossible without technology. Datarithm ®'s cloud-based software uses algorithms that forecast demand, identify trends, and automatically resets reorder points accordingly.

Learn how moving to perpetual and/or automating your process can be transformative. Let Datarithm ® do the work for you, during tax season and beyond, schedule your free demo today.