Prescription
Delivery Service
Expand Your Business with iApotheca

Want to increase revenue and get more patients? EconoRoute™ makes it easy to start a profitable home delivery service.
A Simple Way to Increase Pharmacy Profit
Increase your
Pharmacy Profit

Save Time and Money with EconoRoute™
iApotheca's EconoRoute™ feature automatically plans your delivery route to use as little time and fuel as possible.
Just fill your run, click the EconoRoute™ button and let iApotheca do the rest.

Stay Compliant with Regulations
iApotheca Prescription Delivery has everything you need to track deliveries and confirm transit and receipt by the patient.
Our easy-to-use delivery log means an accurate audit trail at your fingertips at all times.

Manage Orders and Delivery Runs in Seconds!
With our iApotheca pharmacy delivery software, you can create and manage runs in seconds with our easy-to-use interface.
Have multiple pharmacies? Manage your teams with one hassle-free login for all stores.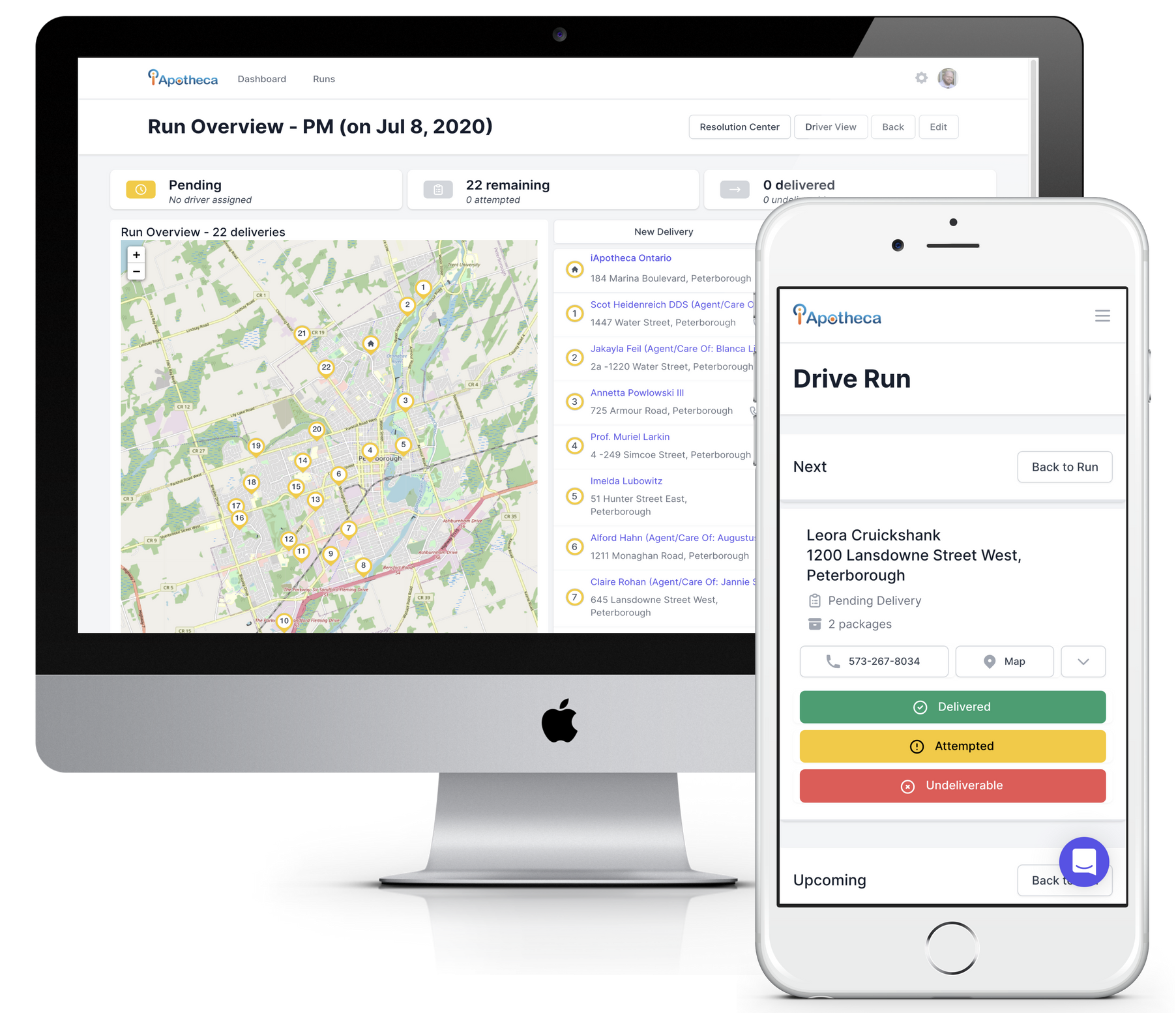 Datarithm®
& EconoRoute™
Datarithm® Helps Build Your Delivery Service Fast with EconoRoute™
Set up your account in just 4 easy steps—you're ready to deliver in minutes!
Optimize a run from anywhere at the click of a button. No more manual route planning.
Save time, labor costs, and fuel with EconoRoute™'s instant optimization.
Now you can monitor your packages in real time with our easy-to-use dashboard.
EconoRoute™ is always fast and accurate; you can add over 100 deliveries to every run!
Your patients can pay at the door with our Square integration. Get paid the next day!
Add multiple teams in seconds and switch back and forth fast for easy monitoring.
Our pharmacy delivery software's built-in audit trail lets you keep detailed records in a handy paperless format.
Nobody home? EconoRoute™ will remind you to reschedule or return the item to inventory.
Prescription
Delivery Service
Sign Up Now to Start Offering Prescription Delivery Service Today
Choose one of EconoRoute's cost-effective plans. Datarithm® service is not required.
---
Up to 250 Deliveries
Email & Chat Support
---
$59p/m
---
Up to 800 Deliveries
Email & Chat Support
---
$89p/m
---
Up to 1,400 Deliveries
Email & Chat Support
---
$129p/m
Frequently Asked
Questions
Why buy from iApotheca Healthcare? What makes us so special?

iApotheca knows pharmacists! We've spent several years working closely with pharmacists in all kinds of work settings to design tools to make your life easier! Our products are geared toward compliance while saving time and money and increasing pharmacy revenue.
Are there any hidden costs or any extra fees?

No, there are no other hidden fees or setup costs.
What's included in the support service?

If you know iApotheca, you know our support is second to none. We're quick to respond and knowledgeable about our local pharmacy inventory control products. We get things sorted fast. Our tool includes unlimited phone, email and ticket support with our customer support specialists from 9am to 5pm Monday to Friday Eastern Standard Time.
Do I have to sign a long-term contract?

No way! We offer month to month and annual payment options with no long term contracts and no cancellation fees.
Demo

iApotheca Delivery
Increase revenue and get more patients.