It's been said, "the more things change, the more they stay the same." In community pharmacy, this could be restated as "the more things change, the keys to success stay the same." While no pharmacy operates in the same way as 100 years ago, some things are still the same. In all cases, the location has to be convenient for customers, staff must attend to the needs of the customers, and the store stock must contain the right mix of products for the customers. Some trends are pushing to the forefront, ready to alter the manner in which business is done. Safety and accuracy in prescription dispensing are crucial elements of making sure the right patient is taking the right medication in the right dose. In many ways, pharmacy management involves embracing the technological changes that can help with various operational challenges like safety and accuracy as well as staffing shortages, long hectic hours on the job, complicated procedures for insurance reimbursement, and increases in prescription volume.
Automation Behind the Counter
The acceptance of automation has been increasing since the first portable digital tablet counters were introduced in the early 1970s. The goal is to decrease the possibilities of human error while increasing the speed of dispensing. However, humans are still an integral part of the dispensing process.

As just one example, automated dispensing cabinets combine the function of a tablet counter with that of a secure storage unit. Prescriptions can be filled quickly and safely with minimal human contact with the actual drug. These devices are indeed one method that is utilized to prevent losses of controlled substances while ensuring that prescriptions are filled with up to a 99.99% accuracy.

Automation technology was initially conceived to increase safety and to reduce dependence on pharmacists and technicians. It is clear that pharmacists and technicians will continue to be integral to the overall success of pharmacies. They are on the front lines of direct patient care through counseling and in checking the potential drug-to-drug interactions among multiple prescriptions for the same patient. No machine can replace that.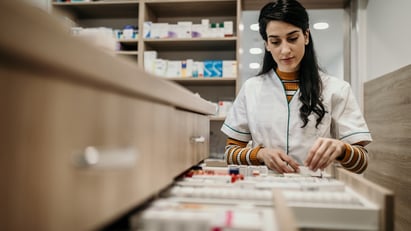 Inventory Control Remains Critical to Success
It is impossible to guarantee that the right patient is taking the right medication if a drug is not in stock in the right quantity. Inventory must be appropriately managed to ensure that goal is met. As the single most substantial on-going investment, proper inventory control is essential to continue effective daily operations and promote long-term profitability. Most inventory decisions revolve around replenishment: when and how much of a product to order.

In many respects, inventory is controllable and must be appropriately managed to meet patient demand with the lowest cost per unit and with the minimum total investment. Keeping up with patient needs and drug orders/reorders is critical to maintaining profitability. This important pharmacy function cannot be left to chance with outdated methodologies. An owner or manager must implement a strategic system to manage inventory. One of the easiest ways to do that is to adopt a fully integrated perpetual inventory system.
Staff Needs are A-Changin'
The increased use of automation has a direct impact on staffing and staff utilization. By using automation and other advanced technologies, a pharmacy owner, or manager, can avoid adding more staff even as the daily number of prescriptions filled increases. Current staffing levels plus automation can easily give the team more time to interact with patients, which translates into an excellent customer service experience.

Relationships and communication skills are becoming ever more critical as the U.S. population ages and patients are taking multiple medications, sometimes from multiple prescribers. The pharmacy becomes the point of interface between prescribers and patients. This makes it vital to keep the lines of communication open in both directions, to patients, and prescribers.

Additionally, a pharmacy must have a continuous quality improvement system in place that is designed to either stop mechanical mistakes or identify those mistakes before the prescription reaches the patient. Pharmacy staff will also move toward working closely with patients in meeting their overall health needs (which is more than just dispensing medication). Services like immunizations will increase interaction with patients, provide excellent customer service, and become an additional revenue stream.
Laws, Laws, and More Laws
Laws, both state and Federal, are a fact of business. Of course, they are particularly important in the pharmacy segment that is dealing with patient safety, controlled drugs, insurance regulations, and a host of other factors. While some legislative initiatives may make operating a pharmacy easier, others will possibly make things more difficult.

At the Federal level, the reintroduction of the Pharmacy and Medically Underserved Areas Enhancement Act (if passed and signed) could open new avenues for pharmacy/patient interaction. With opioid abuse as one area of focus, this bill promotes pharmacists and their knowledge of drug interactions as key to any effort to help manage the impact of medications, as well as coordinating care plans to meet patient needs. Additionally, no one knows the implications that may result from efforts to repeal, repair, or reform the Patient Protection and Affordable Care Act of 2010. This continuing situation will definitely impact pharmacies again at some point.

Another area where some states are having a positive impact on pharmacies is with legislation and/or policies regarding transparency in reimbursements from Pharmacy Benefit Managers. Legislatures and state Medicaid agencies are beginning to have more regulatory impact on PBMs, even to the point of putting PBMs under the oversight of state insurance commissioners.

These changes are only representative of the many legal matters affecting pharmacies today and in the future. Inevitably there will be more legislation to come, and it is impossible to predict if the changes will be positive or negative.
Co-ops, Buying Groups, and Wholesalers
No matter which name is used, a variety of cooperative purchasing groups for pharmacies have been in existence for nearly 40 years. Currently somewhere in the neighborhood of 80% of independent pharmacies participate in a buying group of some kind. The alignment of the purchasing and negotiating strengths of pharmacies with the advantages of preferred negotiated discounts with primary wholesalers can be a win/win proposal for all concerned.

Independent local pharmacies and regional chains are combining their numbers to be able to compete with the national chains and mail-order operations. In addition to purchases, buying group members can also receive further assistance with services such as advertising to promote profitability. Pharmacies can also investigate the advantages of being a member of more than one group to increase pricing and ordering flexibility. Purchasing groups are indeed a valuable resource in helping to provide the lowest drug costs while minimizing ordering difficulties.

It is worth mentioning that in some cases buying groups are just secondary wholesalers in disguise. In those instances, researching a drug shopping site that compares drug prices while taking rebates into account may be a better benefit to joining a buying group.

Pharmacies must continue to weather the storms of business, regulatory pressures, and industry advances. It is essential to remain flexible to shift as needed without losing the customer service focus and to maintain marketplace viability. Convenience for patients, attentive staff, and the right stock mix will all go a long way in promoting profitability into the future.