Perpetual Inventory is the Future of Pharmacy
In an article published by Drug Store News, industry executives weighed in on the challenges and opportunities that lie ahead for today's independent pharmacies as the pandemic begins to fade from the forefront to the periphery.
Here are a few key takeaways we observed:
Because of COVID-19, retail pharmacy is now expanding as a new epicenter of health care.

The future of specialty prescribing and fulfillment is here, thanks to the help of advanced technology.

The increased professional demands of COVID-19 have spotlighted areas where technology can help create a more streamlined and efficient workflow while also improving patient care.

As automated prescription filling processes free up pharmacist bandwidth, opportunities will emerge to expand patient care services, for patient monitoring, vaccinations/immunizations, chronic disease management, and patient education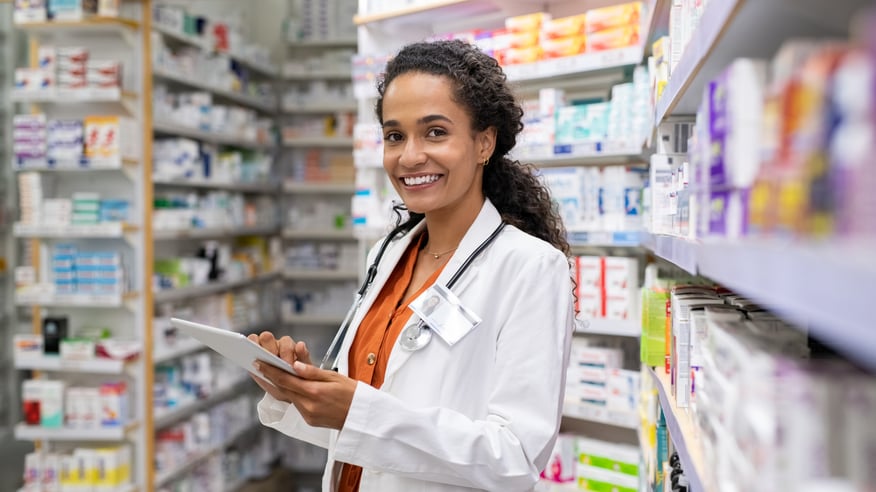 77% of pharmacists now regularly give immunizations

44% are managing a prescription home delivery program

42% now perform patient follow-up calls

37% have newly taken on helping patients find affordable options
The bottom line remains that today's pharmacists are very much the face of community care—yet increased responsibilities amid staffing shortages have led to an alarming surge in burnout throughout the industry.
What if Your Pharmacy Technology Worked as Hard as You?
Independent pharmacies can refocus efforts on patient care and counsel while letting technology automate time-intensive (yet critical) tasks like inventory management. Inventory continues to be a pharmacy's largest ongoing expense. But, it also represents the biggest area of opportunity for cost optimization.
Pharmacies must ensure they have the right amount of medications on-hand while minimizing the risk of overstock or out-of-stock scenarios. Both of which negatively affect the pharmacy's cash flow. While all pharmacies operate on a Pharmacy Management System (PMS), their approach to managing inventory varies. There are three recognized methods and one distinct front-runner:
1. The Visual Method
Pharmacy staff manually inspect inventory on shelves and trigger a replenishment if the item appears low. The downside to this method is that it can be very difficult to stay on top of constantly changing inventory levels and stock issues may be realized too late. Surplus inventory, which can sometimes be returned to the wholesaler or transferred to another store, may not be as readily detected essentially leaving cash on the shelf.
2. The Periodic Method
Here, pharmacies use basic technology like barcode scanning to inspect inventory at specific time intervals—weekly, monthly, or annually. While this method is more systematic in nature, it still mostly relies on staff to make decisions based upon their observations and experience, which can be subjective and error-prone.
3. The Perpetual Method—Most Precise, Most Accurate
This approach measures inventory continuously in real-time through a computer system that automatically updates on-hand quantities upon delivery and dispensing. It incorporates an automatic replenishment system that ensures drugs are identified for reorder once the stock level reaches or falls below a calculated replenishment point. Of these three methods, Perpetual Inventory offers the most precise and accurate way for pharmacies to manage their stock levels.
Specific benefits of

inventory

management implementations include

:
On-hand inventory is always accurate
Financial conditions (inventory investment & profitability) are readily available
Shrink is easy to spot when the Pharmacy Management System (PMS) and shelf disagree
Choice of manual or automatic EDI ordering is available
Monthly re-order point optimization is always in lockstep with changing demand and the preferences of management/owners
Optimized re-order points coupled with automatic return and transfer recommendations reduce overstock and dead inventory
Reduced ordering time leaves more time to care for patients
Improved fill-rates and inventory turns
Intelligent cycle counting to maintain on-hand accuracy
Automation Ups the Ante
Implementing the Perpetual Method without underlying automation presents a few inherent problems as it can be nearly impossible to maintain reorder points for thousands of drugs with fluctuating demands.

With automation technology in play, pharmacies can maintain an accurate picture of stock levels, replenishment schedules, and turn rates, with quantities updating dynamically, and in real-time. Management always knows where inventory is at so they can make informed financial decisions, while pharmacists and front-line techs can ideally dedicate more time to serving their patients' needs.

Typical pharmacies maintain 2,000 to 5,000+ active inventory items making manual inspection and regulation a near impossible task. Pharmacies who implement an automated inventory management system using the Perpetual Method are able to better manage what they have and refocus their time from products to patients.
Right-size Your Inventory Once & For All
Take complete control of your inventory with a simple-to-use dashboard that integrates directly into your pharmacy's PMS.