The health of your pharmacy's bottom line depends on profit and cash flow. And its biggest expense—inventory—has a very big effect on both of these! That's why your pharmacy must utilize an effective inventory management system. It is simple—take control of your inventory and you are on your way to improving profit and cash flow. Now's the time to evaluate your current inventory management procedures, or lack thereof, and explore Datarithm®—an inventory management solution proven to boost any pharmacy's bottom line.
What is Datarithm®? Datarithm® is an intuitive, cloud-based platform that works seamlessly with most leading pharmacy management systems (PMS), so, you can likely continue with your existing PMS. Datarithm® relies on proprietary algorithms that forecast drug demand, identify trends, automatically calculate reorder points, and surfaces potential over-stocks, wholesaler returns, and store-to-store transfers. Its software is intuitive with an easy-to-use, feature-rich dashboard. Datarithm® benefits pharmacists, pharmacy techs, managers, and owners alike by streamlining tasks and automating inventory management.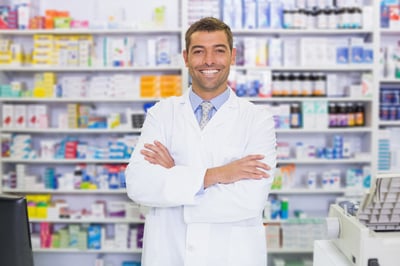 While profitability is clearly the goal of any business, cash flow is the lifeblood. Attacking surplus inventory will reduce your RX inventory investment (expense), and immediately improve cash flow generation. As this occurs, inventory turns will accelerate and better profitability will follow. Datarithm® is designed to trigger all of these improvements, quickly and easily. In fact, Datarithm® makes monitoring these items nearly automatic! The result? On average, Datarithm® clients enjoy a 4+point turn-rate improvement and a turn rate of 19X – approximately 50% better than the industry average of 12X – 13X!
Causes of surplus inventory include unnecessary overstocking, expirations, and unexpected loss of demand. If not monitored, and appropriately addressed surplus inventory can quickly get out of control and cripple a pharmacy's cash flow.
With surplus inventory identified, Datarithm® makes daily automated return to wholesaler recommendations and, for chains, intelligent store-to-store transfer recommendations. In summary, these functions along with optimized re-order points assist pharmacies in converting money on the shelf to money in the bank.
Of course, pharmacists and pharmacy techs are the cornerstones of any inventory management system. But how do they find the time to review and maintain these systems, act on or communicate their findings? Especially now, as their daily duties include flu and COVID-19 vaccinations as well as booster shots and other healthcare-related services (let alone dispensing duties). These ever-increasing demands on their time typically result in the pharmacy team avoiding, postponing, or entirely ignoring inventory control tasks. Relax. Datarithm® is here with the tools pharmacy staff need to simplify and streamline inventory management tasks thus providing bandwidth to handle other important tasks.
Datarithm® makes tasks like cycle counting easier than ever for your pharmacy team—from completing the physical counts of inventory to making manual adjustments, to calculating reorder points and reducing the chances of future surpluses.
But that's not all; through robust analytics, intuitive dashboards, and comprehensive inventory reports, Datarithm® delivers all the inventory optics that owners, managers, and pharmacists can leverage with the click of a mouse.
The results? Many Datarithm® clients realize a 20% reduction in their inventory investment, improved turns, a 99% managed service level, and more time for customer service! Best of all, Datarithm® is extremely cost-effective and typically pays for itself in less than 3 months. Now, that's a great ROI.
Are you ready to streamline your pharmacy's inventory management process and increase profit while improving cash flow? It's easy to get started—just call or click and schedule your FREE no-obligation consultation and demonstration today. You'll be glad you did!