Datarithm was featured in the article, "The Art and Since of Inventory Management," published in the November/December issue of ComputerTalk. Pharmacy owners, Chris and Becky Schiller, share how finding an inventory management solution for their four stores helped them identify what was needed without wasting money on unused stock. Read the story.
ComputerTalk: The Art and Science of Inventory Management
Inventory Management, having a variety of medications on the shelf ready for the walk-in customer, is as much an art as it is a science. "I didn't want our service to suffer," says Chris Schiller, Pharm.D., who co-owns the four-store Economy Pharmacy with his wife, Becky. The goal is to eliminate surplus while still having a variety of medications on the shelf to handle any patient need. "It's really hard to do this and still keep your service level," Schiller says. "But our service level hasn't suffered," he continues. "It's just as good as it was before, and we have increased cash flow, which was really my goal — to operate more effectively."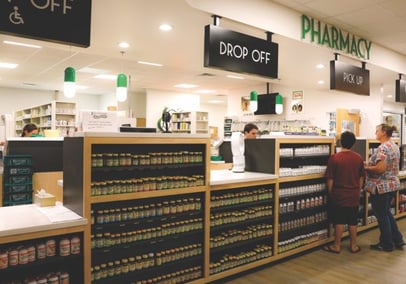 The couple bought the business two years ago after working there for 20-plus years. Schiller says that he knew one of the first aspects of the business he wanted to change was inventory management. Although he used perpetual inventory through his Computer-Rx system and regularly reviewed reports to keep the shelves clear of unused inventory, Schiller wasn't seeing the results he needed.
The four stores, two in both Tulsa and Muskogee, Okla., fill about 37,000 prescriptions a month across a variety of practice settings: Three of the four stores are stand-alone pharmacies; one is in a medical building. Three stores offer compounding service, and Economy operates a robust adherence packaging and delivery program. "We service every type of patient," says Schiller. "We deliver, we have a double drive-thru — we do just about everything."
A few months after purchasing Economy, Schiller compared third-party inventory management systems at a trade show. He knew he needed something that worked across the four stores, was easy to use, and would intelligently manage the inventory so he would have everything he needs without wasting money with unused stock. He chose Datarithm because he liked how it would tie the four stores together, and he liked the idea of working with a small company.
"What I liked about Datarithm is it's using our actual inventory to set order points," says Schiller. "It can tell us we have an item in stock but won't be dispensing it for a few months in that location, so we can transfer it to a location where it will be used sooner. This really helps us manage our inventory."
Datarithm is cloud-based software that forecasts usage based on each pharmacy's historical dispensing data. Pharmacists set order points and other metrics to fi t their goals, and the software identifi es surplus and advises on returns. This is a powerful tool, especially with expensive drugs that aren't fast movers.
Instead of purchasing an item again, the software shows Economy staff where a specifi c item is in stock at another store, and the quantity, says Schiller, signifi cantly reducing unnecessary ordering. "We still have quite a bit of surplus, in my opinion, but it's obviously down significantly.
LET THE SOFTWARE DO ITS WORK
At first the staff was hesitant to let the software make the inventory decisions, says Schiller, due to the age-old pharmacist's dilemma: fear of change. "I told them this was change for the good, and just let the system do what it's supposed to do," Schiller recalls. "It's been doing a fantastic job. They make adjustments occasionally, but it has, in my opinion, made my staff's job easier and more fun."
Schiller and his staff still conduct audits to verify what's actually happening with inventory, but he says the software does pretty much everything when it comes to day-to-day inventory management. This means less time managing exceptions like the expensive drug for one patient, which used to require a manual order point set to have just-in-time fulfillment. Now the system predicts when that drug is needed, and indicates when staff should transfer between stores if it's already in stock.
"Without this intelligence you're just driving blind," Schiller says. "What's helped us a lot is knowing when we can return medications or should order more. With the software reviewing our dispensing history, it makes it a lot different from trying to do it by yourself through reports in your computer software."
The balance sheet tells a powerful story. Shortly after Economy implemented the Datarithm solution in the spring of 2017, Schiller says, he had $1.6 million on the shelf. Today, he has decreased the inventory by 30%, or $500,000. The returns went from 15% to 19%. Over the course of this time he has returned $633,000 worth of medications and transferred, rather than buying again, $150,000. The surplus is down $215,000. Schiller thinks he's still carrying a little too much surplus, but overall the results are more than he had hoped for.
"There are so many things you need to worry about, and having the inventory managed at this level means we don't have to worry about it," he concludes. "We can still offer a high level of service while keeping our inventory numbers lean."
A GOOD INVESTMENT
The integration between the pharmacy system and Datarithm is seamless and takes into account the demographics and needs at each store. An example of the benefit of a unified inventory system is with the expensive drug for one patient in an adherence program. Since the software is looking at the various locations and is able to see there is some on the shelf at another store, there is no need for the staff to manually change an order point or zero out inventory to trigger a reorder.
"As long as we do our audit reports and follow the recommendations for returns, the software works great," says Schiller.
His staff at first wanted to override the system recommendations, but Schiller was adamant about letting it run and avoiding the desire to override its recommendations. "We're creatures of habit, and when you've done something for 20 years it's hard to imagine a better way to do something," he says. "If we're going to continue, we have to change and not be hesitant to invest in something. I think it's well worth the money."
This article was originally published by ComputerTalk, click here to download the full story.